The turbulent year of 2020
2020 was a turbulent year and a perfect test for responsible business conduct and businesses' due diligence. The pandemic has demonstrated the importance of the OECD Guidelines for Responsible Business Conduct to strengthen the ability of businesses to withstand new crises. It is essential to base business activities on these guidelines to build back better after the pandemic, and Norway's National Contact Point is there to help.
How will Norwegian enterprises make a comeback as competitive players in the international market when the coronavirus pandemic loosens its grip? They will have to be at the forefront of responsible business conduct.Frode Elgesem, Chair, Norway's NCP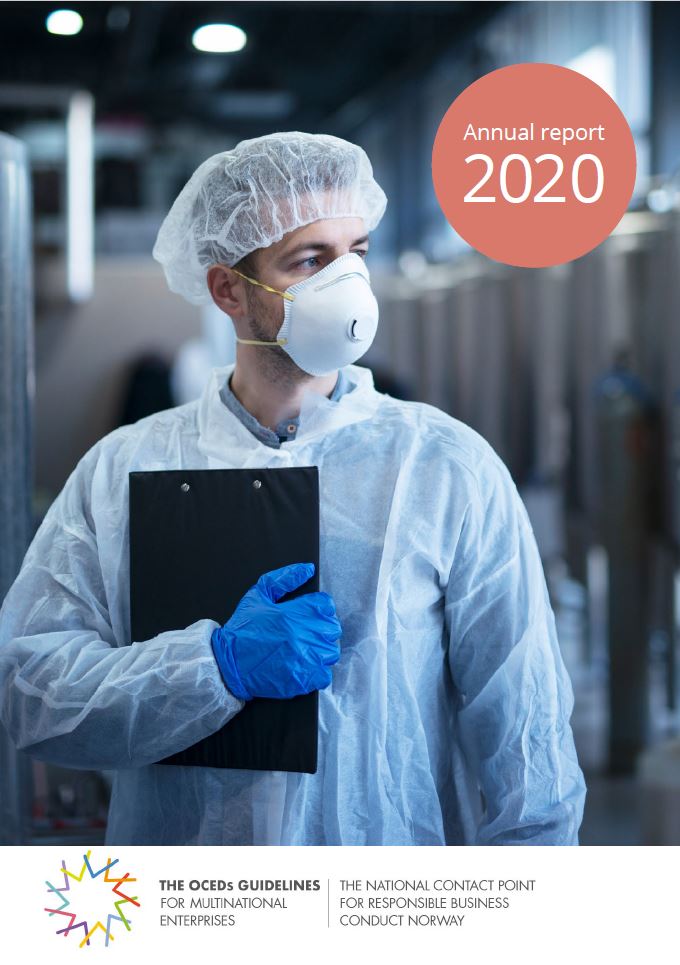 Build back better – what does it mean for responsible business conduct?
The hashtag Buildbackbetter refers to the need for actions and changes that enhance the ability of businesses to withstand new crises. The post-pandemic economic recovery must comprise more than merely going back to 'business as usual'. It requires a transition to a green economy, investments and shifts in attitudes that can increase society's ability to withstand the ramifications of new crises. The measures need to ensure jobs and better living conditions and reduce inequality. The plans for such a revival must contribute to reducing greenhouse gas emissions and promoting sustainable supply chains. This requires a long-term perspective on the part of both the authorities and businesses. You can read more about these issues in the annual report.
Norway's NCP: activities in 2020
The annual report manifests Norway's NCPs important role as an expert organ on responsible business conduct and displays activities such as seminars, courses and guidance, with special focus on due diligence. The NCP is also a complaint mechanism and handles several specific instances on alleged non-compliance of the OECD Guidelines by Norwegian enterprises.
In the annual report you can read about the following priority areas and activities:
Webinar on responsible business conduct in the coronavirus crisis
Workshop for state agencies that provide economic support or services to business on responsible business conduct: Consistent advice from the state is necessary
Norway's NCP is a voice that is listened to when policy is designed
Input to the Transparency Act, which was adopted in June 2021
20th anniversary of the national contact point system – an important driver for responsible business conduct
Launch of compendium containing ten groundbreaking international specific instances
Handling of specific instances against Norwegian enterprises.
Interview with stakeholders
The annual report includes interviews with central stakeholders for Norway's NCP, who illuminate different aspects of the work to promote responsible business conduct. These stakeholders are:
The social partners on how businesses should "Build Back Better" with Nina Mjøberg from the Confederation of Trade Unions (LO) and Henrik Munthe from the Confederation of Norwegian Enterprise (NHO)
Businesses work with responsible business conduct, represented by the small Norwegian business Beer Sten and General Manager Monica Sander
International: groundbreaking case handling by the Dutch NCP in a specific instance against the bank ING about climate changes, by Arnaud Cohen Stuart, Head of Business Ethics at ING.
The annual report was launched 26 April with a webinar comprising a dialogue meeting with representatives of our stakeholders – social partners, civil society and business – and a panel discussion on the social dimension of sustainable finance. Information and program (in Norwegian).