Challenging and complex markets, but few complaints to Norway's NCP
We need to protect the NCP system, because it is the best instrument we have to promote responsible business conduct, says contact point member Frode Elgesem in the annual report. However, it relies on interested parties actually using the mechanism. In the report, the NGO ForUM is asking if it is too difficult to file complaints. Norway's NCP handled one single case in 2017. The low number of complaints does not reflect the challenges Norwegian enterprises are meeting internationally. In 2017, Norway's NCP has focused particularly on the garment and footwear sector and the finance sector.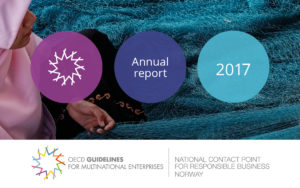 Efforts towards a sustainable garment industry
Garment and footwear are among the biggest consumer goods in the world. Every day we hear on the news about miserable conditions for workers in the supply chain. A number of Norwegian and Nordic clothing groups have made systematic efforts for several years to improve the standards in this area. Read about the positive feedback from participants from the garment sector on our workshop, and our collaboration with Norwegian Fashion Hub.
Towards a new direction in the financial sector?
In the report, Norwegian bank DNB states that people have come to hold higher expectations of banks and what they invest in. Amnesty Norway states that investors who ignores danger signs are deemed to be complicit. However, if investors join forces and demand responsible business conduct, they can make a positive contribution to promoting and strengthening human rights. Read about our seminar for the finance industry in Norway, where the OECD guidance document for institutional investors was launched.
Courses for business and public sector agencies in due diligence
Norway's NCP organises courses for business in due diligence, that consists of three full days spread over 4 months. The participants are introduced to the OECD guidelines and due diligence method. They also receive individual guidance to adapt the information to the management system and policy in their own company. In the annual report, you can also read about the NCPs efforts for concise expectations and guidance from public funding agencies on responsible business conduct.
The annual report was presented in a dialogue meeting 9. April, where participants from business, civil society, government and academia was invited to give feedback on NCP Norway's work.
Download the report here.