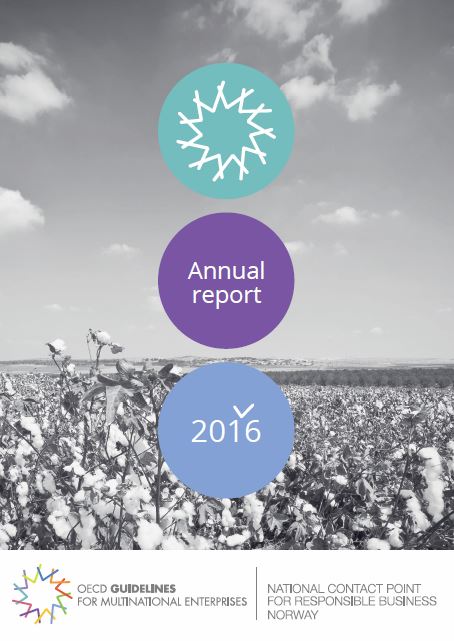 The OECD Guidelines for multinational enterprises are more than just good intentions. They are a practical tool that can prevent businesses from wrongdoings in their engagement with people, environment and society all over the world.
The annual report 2016 for the Norwegian OECD National Contact Point (Norwegian NCP) is packed with information on activities from 2016, and it has specific advice to businesses on how they can identify, prevent, mitigate and account for how their business could be contributing to risk for people, environment and society. It also gives an overview of five steps to ensuring responsible business conduct, in line with the OECD Guidelines.
Course – could your company be linked to human rights violations?
The Norwegian NCP has arranged several courses for both businesses, NGOs and government representatives regarding how to do human rights due diligence. In this annual report, many of the participants and partners of Norway's NCP such as Eurosko, Choice Hotels and Coop, as well as GIEK, the Norwegian Ethics Council and Ethical Trading Initiative Norway, have conveyed their enthusiasm about the Norwegian NCP's work. Moreover, they specifically refer to joint guidance, good tools and the opportunity to establish a network within the field of responsible business conduct.
Specific advice for your company – the OECD sectoral guidances
The annual report presents the OECD sectoral guidance's. They provide practical advice, tailored to each sector. The guidance's operationalizes the more general OECD Guidelines and give useful examples that are common in each sector. As such, they seek to contribute to responsible business conduct – all throughout the supply chain.
Last year, the Norwegian NCP arranged a seminar targeting the extractive sectors – read more about this in the report.
There are sectoral guidances for the: food and agriculture sector, textile- og shoe sector, for conflict minerals, meaningful stakeholder engagement in the extractive sector and for institutional investors. The guidance on general due diligence will soon be launched.
International cooperation for a level playing field
It is important that Norwegian business perceives the Guidelines and the NCP arrangement as fair. In the annual report, you will read about how and why the Norwegian NCP works internationally, with other NCPs and with OECD. This requires dialogue and cooperation between the 46 NCPs all over the world to convey a joint interpretation of the guidelines and to learn from and share experiences with each other.
You may read the annual report in full here.
Please contact the Norwegian NCP if you have any questions regarding responsible business conduct.