Human Rights Due Diligence 2016
Unique training in due diligence for responsible business conduct.
Offer to Norwegian companies: Business and human rights course
Norway's OECD Contact Point invites, for the second time, companies to participate in a course on Human Rights Due Diligence. The course aims at providing the business with answers to questions such as: Is our business at risk of violating human rights? How does this affect our operations? Where is this happening? Who are affected? What can we do to prevent human rights violations?
The course, which is offered to approximately twelve companies, comprises three full day workshops. Each company will be provided with an additional eight hours of individual consulting from an experienced consultant, and participation is free of charge.
Businesses increasingly face expectations that they become aware of, and work systematically with potential human rights risks associated with their operations. The Norwegian government's recent launch of the action plan for business and human rights is but one example. Child labour, hazardous working environments, union busting, demolished local communities, discrimination and forced labour are examples of human rights violations that, unfortunately, are not unusual in the value chain of Norwegian companies.
Involvement in human rights violations can have great negative consequences for the company, in the form of unfavourable media exposure, reputational loss, internal disturbances, delayed processes and lost market share. Few businesses know how to proceed to determine their risk of being associated with human rights violations, and how to address such risks. Violations may be occurring through a business relationship with loose affiliations to the company, posing particular challenges in relation to risk assessment. What responsibility rests with the company in such situations?
The workshops will be customised to meet the requirements of the participants and be of relevance for all businesses, including smaller and medium-sized ones. Through participation in this course, each company will develop a human rights due diligence process customised to its needs.
Participants who attended the course in 2015 said:
"The course offered good teaching, interesting presentations and discussions, realistic challenges and tools for further work. Through the course a network of colleagues dedicated to the implementation of human rights due diligence was formed, and we look forward to continue this productive dialogue". Statkraft
"This course created awareness of and general insight into a complicated area. The individual consulting provided opportunities for us to continue our work with issues that are specifically relevant for our business". Kongsberg Gruppen
"We have come to understand that working with human rights does not have to be complicated". Mester Grønn
Registration: complete the registration form and submit as soon as possible.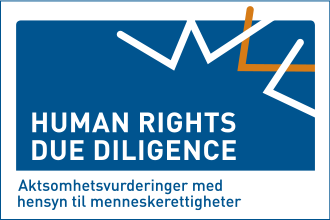 Enterprises
Participants, Human Rights Due Diligence 2016